Passionoir Akoya Cultured Pearl Ear Cuff
PASSIONOIR
Passionoir Akoya Cultured Pearl Ear Cuff
Inspired by the chemical reaction brought by the strong contrast between the innocent beauty of pearls, combined with the powerful and mysterious black colour, "PASSIONOIR" further pursues the possibilities of pearls. This ear cuff is the perfect way to add some adornment without having to pierce your ears. Featuring 6mm Akoya cultured pearl set in silver plated in black rhodium (*Japanned Noir). Please note this can only be worn in the left ear. *"Japanned Noir" is an expression used for MIKIMOTO products with black rhodium coatings.
Akoya Cultured Pearl
6.00mm
Silver
Diameter 1.5cm
HOW TO WEAR EAR CUFF
①Slip the cuff on the thinnest part of your upper ear.
②Always make sure that the ear cuff comfortably wraps around the cartilage so it does not fall off.
③To remove your ear cuff, simply slide it up to the thinnest part of your upper ear and gently take it off.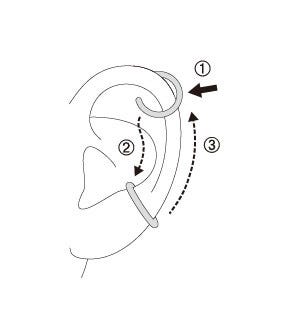 ・Please do not try to pull your cuff apart to avoid possible damage.
・Do not apply too much force on the pearl or it may come off.
・Please bear in mind that depending on the shape of your ear, this may or may not fit or be comfortable to wear.